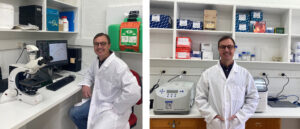 This month we shine the light on Gavin Hunter, Team leader and Research Scientist at the CSIRO in Canberra.  Gavin has been working in plant pathology and diagnostics for approximately 18-20 years, with his work and studies taking him to the United Kingdom, Darwin, Sydney and now Canberra.
How did you find yourself on this career path?
I studied a BSc at University, and it was during my microbiology practical classes that I fell in love with microorganisms. Following my BSc, I pursued post-graduate studies and was searching for research projects. As it happened, I was able to find a plant pathology/forest pathology related research project at the Forestry and Agricultural Biotechnology Institute (FABI). I remained at FABI throughout my post-graduate studies and was able to work on interesting and rewarding research projects while being trained and mentored by great plant pathologists, forest pathologists and mycologists. Following my PhD, I obtained a scholarship to undertake a Postdoctoral fellowship at the Centraalbureau voor Schimmelcultures (now known as the Westerdijk Fungal Biodiversity Institute) where I worked on the taxonomy and systematics of the fungal genus Pseudocercospora, a genus that accommodates many important fungal plant pathogens. After my Postdoc, I moved to the United Kingdom and worked as a researcher in microbiology at the Veterinary Laboratories Agency and subsequently the Forest Research Agency where I became more involved in pathogen molecular diagnostics for chestnut blight, ash dieback, oak decline and sudden oak death. In 2014, I relocated to Australia and worked in Darwin and Sydney while trying to find a plant pathology related position in Canberra and was fortunate to be employed by the CSIRO in 2016 as a research scientist.
What does a typical workday look like for you?
A typical day for me is varied and involves different tasks. I manage externally and internally funded research projects. So, depending on the stage of the project, I could be working with colleagues to undertake specific research that includes experimentation in the glasshouses, molecular laboratory, or the quarantine facility. I also collate and analyse experimental results that are used to generate technical reports for research funders and that are also used to feed into scientific manuscripts. Stakeholder engagement is an important aspect of my work in order to understand the needs of biosecurity stakeholders and how best we can assist them through innovative research. As such, developing project proposals and applications for research grants plays an important part of my work. I also interact with many colleagues who have a diversity of skill sets ranging from entomology, ecology, genetics, botany, pathology, bioinformatics, etc. and find these interactions particularly interesting and enjoyable.
How long have you worked in this area?
I've been working in plant pathology and diagnostics for approximately 18-20 years.
What roles have you held previously?
As a researcher I've been fortunate to have the opportunity to travel and work in different countries. As a result, I've had several roles, not all of which have been in plant pathology. Prior to my current role, I've held other roles including, Team Leader – Research and Development, Senior Plant Pathologist, Project officer, Account Manager, Research Scientist, and Research assistant.
What training/education have you received?
I undertook graduate studies (BSc) at University with a major in Microbiology. Following that I progressed through BSc (Hons), MSc and PhD postgraduate degrees all majoring in Microbiology.
What is your most memorable career achievement?
I think my most memorable career achievement would be successfully obtaining my PhD degree. Postgraduate studies are difficult and require plenty of commitment, hard work and sacrifice. To set a goal of obtaining a PhD and working hard to achieve it is very satisfying and allows you to become highly trained.
What advice would you give anyone starting or changing their career?
For someone who is starting their career, I think it's important to find a career that you are passionate about and committed to. Most career paths move through good and difficult patches and if one remains passionate about their chosen field, they will likely remain productive, committed, and satisfied. In terms of changing a career path, I think participating in lifelong learning offers employees the opportunity to develop new skill sets that are current and transferable which could unlock new and interesting career paths that would never have otherwise been considered.