Darryl Herron – SCION, New Zealand
Title: Diagnosing Fusarium circinatum and Ceratocystis eucalypticola in South Africa to improve Australasian diagnostics.
Host: Dr Irene Barnes from Forestry and Agricultural Biotechnology Institute (FABI) – Pretoria, South Africa.
The aim of this residential was to gain broader exposure to two important fungal genera that threaten important tree species in Australia and New Zealand, namely Ceratocystis and Fusarium.
Darryl engaged with researchers from the FABI and University of Pretoria to learn more about the biology, ecology of some of the species in these groups and how to diagnose and identify them.
This residential will result in contributing to development of Ceratocystis spp. or F. euwallacea National Diagnostic Protocol.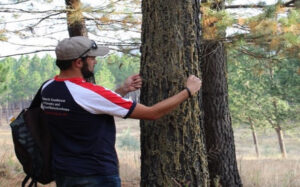 Cathryn Todd – PIRSA-SARDI
Title: Residential to expand diagnostic and surveillance capacity to include bacterial LAMP assays.
Host: Toni Chapman at Elizabeth MacArthur Agricultural Institute (EMAI) in Menangle, NSW. Residential completed at the NSW Department of Primary Industries, Department of Biosecurity and Food Safety.
Cathryn was able to develop skills with new molecular technologies, including loop-mediated isothermal amplification (LAMP) assays, to identify exotic species:
Xylella fastidiosa,
Citrus canker (Xanthomonas citri subsp. citri) and
Angular leaf spot in strawberries (Xanthomonas fragariae).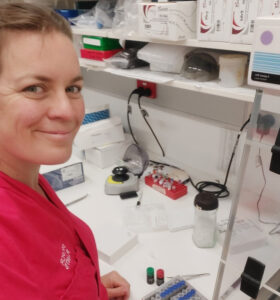 Duy Le – NSW DPI
Title: Making nematological upskilling possible.
Host: Dr Graham Stirling at The University of Queensland (Gatton).
"I am currently a Cotton Pathologist but work mostly with fungal pathogens. Nematology is a completely new skill set to me. I am now able to process and work with nematode samples in our cotton pathology laboratory locally, which is considered a great achievement for me and for this residential project. This is a stepping-stone and will pave a way for more nematology work to be conducted here at Narrabri NSW DPI."